Eclipses of Jupiters Moons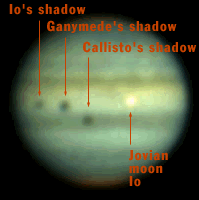 The four major, or "Galilean," satellites of Jupiter form a miniature Solar System, where "years" are measured in days. The motions of these worlds have interested astronomers since Galileo and are still of interest for two reasons: (1) improving the "models" of their orbits, particularly for planning space missions; and (2) investigating the effects of tides on the movements of Io and Europa. (In order outward from Jupiter, the Galileans are Io, Europa, Ganymede, and Callisto.) In order to do this, we need accurately to measure the positions of these moons; from Earth the best means are by timing when these bodies enter or leave the shadow of Jupiter.
A satellite eclipse begins with the satellite's ingress disappearance and ends with its egress reappearance. Seen from the Northern Hemisphere of Earth, in an inverting telescope, the satellite would be moving from left to right when near eclipse. Before opposition, an eclipse event (if visible at all) appears to the left of the disk; after opposition, to the right. However, an eclipse ingress or egress may be invisible because Jupiter gets in the way.


Jovan Eclipse Observations

Event

Universal
Date

1st
Contact

2nd
Contact

Telescope

Mag

Filter

Seeing

Trans

Notes

2D

11/25/2000

6:28:30

6:29:09

4.7" Refractor

132

#8

6

4

GPS Time signals

1R

12/1/2000

4:11:35

N/A

4.7" Refractor

129

N/A

7

3

GPS Time Signals, slight clouds

2R

12/13/2000

3:33:50

3:36:00

4.7" Refractor

134

N/A

7

4

GPS- Moon 40 degrees away
You can download a really cool program that will give you the locations of Jupiters 4 large moons right on your computer: